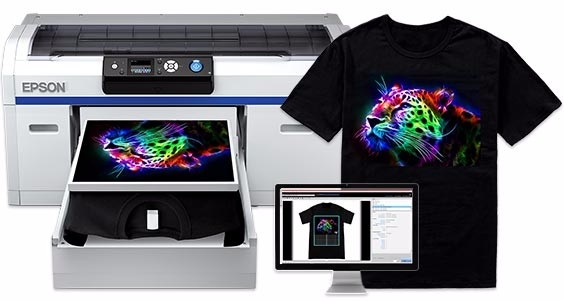 Wij bieden het bedrukken / beprinten van textiel aan VANAF 1 stuk! We gebruiken hiervoor het liefst onze high end  Direct-To-Garment EPSON printer. Deze kan full colour printen op licht EN donker textiel.
We kunnen tot 30cm x 40cm printen.
Deze printers zijn ook ideaal om full color designs te printen voor grotere bestellingen. Neem nu contact met ons op voor een offerte, bestelling of meer informatie.
"Direct-to-garment printing (DTG) is a process of printing on textiles using specialized aqueous ink jet technology. DTG printers typically have a platen designed to hold the garment in a fixed position, and the printer inks are jetted or sprayed onto the textile by the print head. This process allows to print from raster files instead of vector files. Ideally for full color prints. The inks used are environmental friendly and on light garments the ink is absorbed by the fibers of the textiles. This allows for a 'no-hand', natural, soft feel that comfortable to wear. Fading of the print is equal to the aging of the garment.
With Direct to Garment, we can print images in much higher detail than screen printing, and you're not limited in color. ... It should be noted that while DTG is great for designs with a lot of detail, the quality is not as durable as Screen Printing."